My 1998 GoldWing SE was purchased over the phone from an owner in Illinois. To make the deal this way I depended entirely on my personal phone interactions with the owner and a roll of Kodak film he sent. Purchasing covered a five-day cycle from start to finish before my cash covered his loan. Collecting the bike came 10 days later when I traveled from San Jose to Joliet just before Thanksgiving.
While working through the buying details with the bike's first owner, I found our conversations unusually clear and clean. He wanted out; I wanted in. We were both strongly motivated although for different reasons, but his behavior felt honest all the time. You know the feeling when nothing inside is nagging away at you making you wonder is this real. I call this feeling an absence of malice and look for it in all interactions.
It was during my second conversation with the seller where he was telling me about the motorcycle's history and charms that I asked him if he would mind taking a roll of film the next morning. I asked him to try and capture everything he would want to see on the bike if he were on my end of the negotiations. Without hesitation he agreed and 36 undeveloped pictures were quickly being sent by Fed-X to my home.
Just before noon on Wednesday, the film arrives and is immediately dropped off for processing as prints and a CD to be done shortly. I wanted high-resolution digital images so that I could have a better resolution than what typical prints provide by expanding them extensively on the screen. By 4:00 PM the CD's images were scrolling across my screen or sitting in open windows.
To my surprise the bike is much nicer than I expect and there were absolutely no surprises, except one. My unexpected is a picture engraved on the Tulsa Wind-Wings (see Naming Kitty).
After spending another hour with the snapshots I call and let the owner know I'll send a bunch of money to Honda Credit on Thursday for arrival on Friday.
Picking up the bike went without problems and she has run great ever since. By far, this is the best motorcycle I've ever owned.
My purchase of this bike was so spontaneous and unguarded that is has made me think about all the effort I have put into the buying of other items in the past. In retrospect, I was never concerned that this seller was not doing his best and if he wasn't, it didn't seem that important at the time. To some extent, this purchase marked an epiphany in my life.

T.S. Eliot tells us in his 'Old Possum's Book of Practical Cats,' "The Naming of Cats is a difficult matter, It isn't just one of your holiday games; You may think at first I'm as mad as a hatter when I tell you, a cat must have THREE DIFFERENT NAMES."
In 1939 cats were more important to T.S. Eliot than motorcycles, but had the times been different, he might have as easily said, "The Naming of Bikes is a personal matter, it isn't just one of your family games; You may think at first I'm as mad as a hatter when I tell you, a bike may not tell you its name."
This simple problem of waiting for the bike to tell you its name gets us to the crux of the matter. Bikes aren't like sailboats that go around shamelessly brandishing their names on their tattooed tails. Bikes are much more proud and much more particular. First of all, there's the name that the manufacturers use daily, such as Honda, Harley, Yamaha or Suzuki, such as Triumph, Ducati, Moto Guzzi or Kawasaki -- All of them sensible everyday names. There are fancier names if you think they sound sweeter, some for the gentlemen, some for the dames: Such as GoldWing, Tiger, Electra-Glide, Voyager -- But all of them sensible everyday names. But I tell you, a bike needs a name that's particular, A name that's peculiar, and more dignified, else how can she keep up her tail perpendicular, or spread out her handlebars, or cherish her maidenly pride?
Of names of this kind, I can give you a quorum, such as Dancer, Silver, or Ol'Paint, such as Bomber, or else Lightfoot. Names that will never belong to more than one of your bikes. Above and beyond there's still one name left over, and that is the name that you never will guess; The name that no human research can discover -- But The bike itself knows, and may never confess. When you notice your bike in profound meditation, the reason, I tell you, is always the same:
Her mind is engaged in a rapt contemplation of the thought, of the thought, of the thought of her name: Her ineffable effable effanineffable deep and inscrutable singular Name.
If you want to discover this hidden name, you must listen patiently and unimposing and often. It might come when you're out prancing her in a distant canyon or tickling her belly during an oil change. No matter when, if you aren't careful it will be spoken and lost, lost forever on distracted ears. So, if you are lucky, and caring, and careful, you may hear her name when it happens.

| | |
| --- | --- |
| | |
My bike was quick to tell me her name when we first met. It happened so openly it caught me by surprise and now a year of time later, I'm sure it was true then as it is now. In the film that the owner sent there was a vivid image of a cat staring out at me from a full 19" screen. There in front of me is a close-up portrait of a stunning green-eyed Siamese cat with a captivating expression. My reaction causes me to pause as I summoned my partner not far away and who is soon at my desk and saying, "What are you going to call her." "I think her name is Kitty," I reply, "but I'll ask when I call in a little while."
Not long after I'm talking on the phone with the seller where we discuss the details of completing the transaction with the bank. "Jim why did you have an image engraved on the wind deflectors", I ask. He laughs loudly and says, "My wife had a Siamese and other cats when I bought the GoldWing new in July of 1998. I kept the bike in the garage and would keep a full cover on it at all times. Even though it was covered, dirt, cat-prints and hair were always on the seat and dash. I didn't understand which cat was getting in there until one day before taking the cover off the bike, the cat scrambled out from its covered lair. Not long after finding the cat homesteading on the seat, I was at Wing Ding and purchased the Tulsa "Wind Wings". When you buy air deflectors there is an option to have them engraved with various images. I purchased the engraving option and used a picture of the cat that was marking the bike."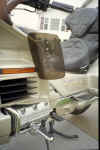 Hearing his story made me smile as I asked, "Can you tell me the name of the cat on the bike?" "Oh sure," he responded, "It was Kitty."